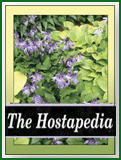 This large size (21 inches high by 46 inches wide) plant is an open-pollinated seedling of H. 'Sieboldiana' that was registered by Margorie Soules of Indiana in 1989. The leaves are broadly ovate with deeply lobed, heart shaped bases. Its growth habit is unruly and the foliage has thick substance. Near white flowers bloom from late June into July followed by viable seeds.

The Hostapedia by Mark Zilis (2009), says that this plant falls into a group in the H. 'Sieboldiana' species and consists of "registered seedlings that have either 'Elegans' or an 'Elegans' sport (e.g. 'Frances Williams', 'Northern Halo', etc.) as a parent. All of these have blue-green foliage and represent the range of 'Elegans' types that can be found."
The New Encyclopedia of Hostas by Diana Grenfell (2009) states: "Slow to establish but eventually makes an impressive clump...Intensely seersuckered leaves are shirred along the veins, giving a pebbled effect."