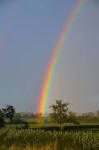 This cultivar, a tissue culture sport of H. 'Obsession', was registered by Hans Hansen and Shady Oaks Nursery of Minnesota in 2005. 'Rainbow's End' was granted a U.S. patent (PP17,251) in 2006.
It grows into a medium size hosta about 11inches tall by 21 inches wide with shades of medium and dark green in the foliage and yellow to creamy white medial (center) variegation. The elliptic leaves are dull on top and slightly shiny on the bottom. Pale lavender flowers with darker lavender centers bloom from August into September on red scapes 16 to 19 inches tall.


The registration materials state: "...'Obsession' sport with yellow center...leaf center changes from yellow to creamy white in summer...AHGA Hosta of the Year 2021...."
The New Encyclopedia of Hostas by Diana Grenfell (2009) states: "Slow growth rate. Useful at the front of a border, in a rock garden, or as an edging...large, curled, colorful variegated scape bracts stained red at the junction with the scape, the large red-stained flower bracts and red scape."


An article about Hosta of the Year in The Online Hosta Journal (Vol. 51 Online 2020) says the following about the 2021 recipient, H. 'Rainbow's End', "This very showy and unique hosta exhibits extremely variegated, shiny leaves. The bright yellow leaves of good substance have dark green margins that jet into the center, and the center brightens to creamy white in summer. The leaf H. 'Rainbow's End' variegation is so irregular, no two leaves look the It's a sport of 'Obsession' that stabilized for Hans Hansen while working at Shady Oaks Nursery. 'Obsession' was a sport of 'Sparkling Burgundy' from Tony Avent of Plant Delights Nursery. Like the plants it sported from, it also has red leaf petioles and red flower stems, which is why Hans name it 'Rainbow's End' - because of all the different colors the plant has! A solid yellow sport of 'Rainbow's End' was named 'Pot of Gold' by Hans.
'Rainbow's End' forms a small to medium sized mound of very attractive foliage in the landscape making it a focal point of any garden.
In late summer, showy red scapes carry the dark lavender, tubular flowers just above the foliage. The streaks of yellow in the leaves brighten to creamy white in summer amidst the dark green H. 'Rainbow's End' margins.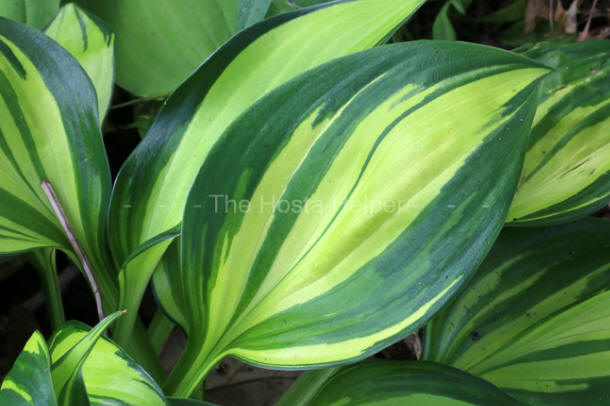 United States Patent: PP17251 (2006)

Abstract: A new cultivar of Hosta named 'Rainbow's End', a sport of Hosta 'Obsession', that is characterized by its unique variegated foliage with dark green margins comprising about one third of the leaf area and centers that emerge yellow green and turn creamy white. 'Rainbow's End' is a medium sized Hosta with a mounded plant habit and pale violet flowers held above the foliage in late summer.