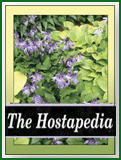 A tissue culture sport of H. 'Maui Buttercups', this cultivar was registered by Jim Anderson of Winterberry Farms of Georgia in 2003. It forms a small size (10 inches high by 25 inches wide) plant with near white flowers in July.

The Hostapedia by Mark Zilis (2009) states, "The sharply contrasting variegation of 'Rainforest Sunrise' makes it a standout in the garden and a popular plant in the nursery trade."
Chosen as the 2013 Hosta of the Year by the American Hosta Growers Association.

An article in The Hosta Journal (2016 Vol. 47 No. 2) states that this also sold under the Tradename or Trademark of H. GOLDMINE.