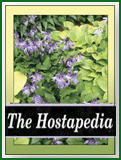 Randy Goodwin of Indiana registered this seedling of H. 'Invincible' in 1996. It has very shiny foliage that is wavy, has smooth texture and is somewhat unruly. The medium size mound is 15 inches high with a spread of 42 inches. Its pale purple flowers bloom in late August.
According to The Hostapedia by Mark Zilis (2009), "...unusually shiny green foliage that conveys a plastic like appearance. The petioles are bright red, especially in the lower half."
Similar cultivars include H. 'Grandaddy Red Legs'.