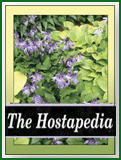 Ken Anderson of Minnesota registered this large size sport of H. 'Krossa Regal' in 1992. The upright mound grows to about 2 feet tall and spreads out about 47 inches. Its lavender flowers bloom in July and August on very tall scapes.
According to The Hostapedia by Mark Zilis (2009), "...color contrast can only be noticed at a close distance. In any case, it becomes a large size mound of foliage that looks good alongside 'Krossa Regal' and 'Regal Providence'."

The New Encyclopedia of Hostas by Diana Grenfell (2009) states in its Hosta Hybrids for Connoisseurs chapter: "Slower to increase than its parent but this majestic yet understated hosta deserves wider recognition. Impressive in a large container. Will always be a rare hosta as it does not come true from micropropagation (i.e. tissue culture) and need to be increased by division."