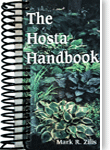 This self-pollinated seedling of H. 'Dorset Blue' was registered by Dr. Ralph (Herb) and Dorothy Benedict of Michigan in 1995. It is a medium size (18 inches high) plant with a semi-upright form and slightly wavy leaf margins. The flowers are pale lavender and appear from August into September with scapes that droop under the weight of the seed pods.
According to The Hosta Handbook by Mark Zilis (2000), it "...acts more like a hybrid of H. kikutii leuconata and H. 'Tardiflora'."




An article by Dr. Ben J.M. Zonneveld in The Hosta Journal (1996 Vol. 27 No. 2) states that, "...I found in the garden of Hideko Gowen,..I also found a seedling of H. 'Salute' (a H. rupifraga × H. kikutii prunosa cross or, is H. 'Blue Cadet' also involved?). It had a total of eight scapes in bud...The peculiar thing was that there was just a single crown with about eight leaves. Surely a plant to give some attention."