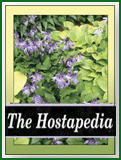 Part of the "Sea Series' of hostas, this plant was registered by Mildred Seaver of Massachusetts in 1991. According to The Hostapedia by Mark Zilis (2009), "...registered as parentage unknown (Eisel 1992), but actually a 'Wagon Wheels' seedling; sibling to 'Sea Lotus Leaf' (Sea Made Hostas 1997 catalog) and 'Muriel Seaver Brown'."
At 23 inches high by 45 inches wide, this medium to large size plant has somewhat unruly foliage with thick substance. Its near white flowers bloom in late June.
Zilis comments, "...one of the bluest of Mildred Seaver's introductions...outstanding substance and attractive corrugation. Its only negative might be a slow growth rate typical of most H. 'Sieboldiana' and 'Tokudama' types."