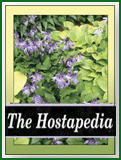 This H. 'Silver Frost' × H. 'Blue Moon' hybrid was registered by Don Dean of Minnesota in 1999. The medium size plant grows to about 14 inches tall and 38 inches wide with very broadly ovate to round leaves that are often cupped and unruly. Its very pale purple flowers bloom in July followed by viable seeds.
According to The Hostapedia by Mark Zilis (2009), "The intensity of blue coloration in 'Silver

Bay' is quite impressive. Add to that intense corrugation, an unruly nature, and thick substance and you have a cultivar that should rank near the top of any list of best blue hostas. Thank you Don Dean for developing this plant!."
The New Encyclopedia of Hostas by Diana Grenfell (2009) states: "...it is one of the few H. 'Elegans'cultivars that retain its blue color into the autumn...the winner of the Alex J. Summers Distinguished Merit Award 2008 as his most outstanding introduction."