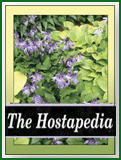 Dr. Kevin Vaughn of Massachusetts registered this hosta with white marginal variegation in 1983. It is a cross of "Vaughn Seedling 73-2" × H. plantaginea. The large size (26 inches high) plant has moderately wavy, ovate shaped foliage with above average substance. Its fragrant, very pale lavender flowers bloom from mid-August into September.

According to The Hostapedia by Mark Zilis (2009), this cultivar "...has historical significance as the first registered hosta with fragrant flowers and variegated foliage. This is another breakthrough for Kevin Vaughn whose breeding program was well ahead of its time."
In an article in The Hosta Journal (2016 Vol. 47 No 2), the author described this plant's flowers as having a "Strong" fragrance compared to other hostas.