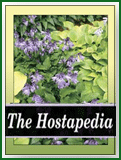 With H. nigrescens in its background this cultivar has been around for a long time in Japan. It was registered by Peter Ruh of Ohio in 2002. A semi-upright mound, it grows into a giant size hosta about 28 inches high and 5 feet wide. The foliage is cupped, moderately corrugated and has thick substance. It bears lavender flowers.
According to The Hostapedia by Mark Zilis (2009), this cultivar is "...named for the Tenryu River (in Japan) that is the same as or a seedling of H. nigrescens."
Seedlings include H. 'Allegheny River', H. 'Presence of Mind' and H. 'Tenny Up'.