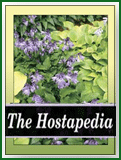 With H. nigrescens in its background this cultivar has been around for a long time in Japan. It was registered by Peter Ruh of Ohio in 2002. A semi-upright mound, it grows into a giant size hosta about 28 inches high and 5 feet wide. The foliage is cupped, moderately corrugated and has thick substance. It bears lavender flowers.
According to The Hostapedia by Mark Zilis (2009), this cultivar is "...named for the Tenryu River (in Japan) that is the same as or a seedling of H. nigrescens."
W. George Schmid in his Hosta Species Update on The Hosta Library (2007) says, "H. nigrescens...and H. 'Tenryu' are morphologically the same. There are slight differences in the flower color, H. 'Tenryu' has white flowers shading to a very light mauve with barely darker stripes, while H. nigrescens has almost white flowers. The anthers of both are bi-color purple. In this Species Update they are considered the same."