This cultivar was registered by Robert Savory of Savory's Gardens in Minnesota in 1977. It is a small size (6 inches high by 21 inches wide) seedling of H. venusta and is a rapid grower. The tear shaped leaves grow to about 3 inches in length and medium purple flowers are borne from late June into July followed by viable seeds.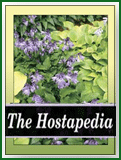 According to The Hostapedia by Mark Zilis (2009), "At maturity it is very difficult to distinguish 'Tiny Tears' from H. venusta and others such as 'Abiqua Miniature', 'Suzuki Thumbnail', 'Thumb Nail', and 'Tot Tot'...This has become one of the premier dwarf host cultivars. Though 'Tiny Tears' barely differs from the commonly grown form of H. venusta, its name has boosted its popularity. It can be successfully used as a low edger, but makes an even better trough plant."

The Book of Little Hostas by Kathy and Michael Shadrack (2010) says: "Fairly fast-growing...Ideal for almost any situation, especially as an edging plant, in a small container, or in the rockery. The most common hosta of H. venusta lineage, it has remained popular for more than thirty years."
The New Encyclopedia of Hostas by Diana Grenfell (2009) states in its Miniature Hostas chapter: "Increases well and has produced some exceptionally good sports...teardrop-shaped leaves."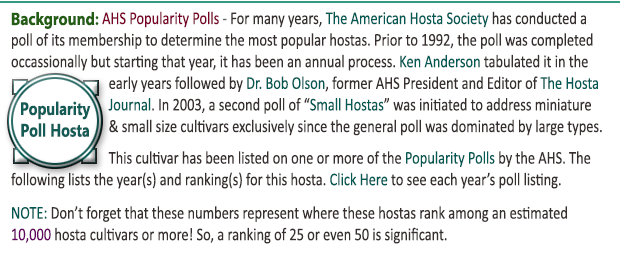 11
5.6

2003 #6
2004 #6
2005 #4
2006 #4
2007 #4
2008 #4
2009 #6
2010 #6
2011 #7
2012 #7
2014 #8