This plant is a hybrid of H. 'Aden No. 456' x H. 'Little Aurora' which was registered by Paul Aden of New York in 1986 but the originator is unknown. The bright gold foliage grows into a medium size hosta about 11 inches in height with a spread of 26 inches. Its leaves are convexly cupped and moderately corrugated with average substance. The medium lavender flowers bloom in July followed by viable seeds.

According to The Hostapedia by Mark Zilis (2009), "...classic is familiar to almost every hosta collector and many shade gardeners. It works as a ground cover and looks great in combination with 'Wylde Green Cream', 'Pistachio Cream' and 'Ice Cream'."
The New Encyclopedia of Hostas by Diana Grenfell (2009) states: "A classic hosta and still very popular...Differs from most golden-yellow hostas in having pale creamy chartreuse leaves."


An article by C.H. Falstad about the stability of colors in hosta leaves in The Hosta Journal (2006 Vol. 37 No. 1) says, "Examples of this backward mutations - which move the plant closer to its more natural state of all-green leaves - are the yellow-leaved 'Vanilla Cream'...sporting to 'Wylde Green Cream'...which has a dark green margin and yellow center, and to 'Ice Cream'...which has a green center and yellow margin...Some yellow-leaved varieties seem to be able to mutate to forms with subtle variegation. H. 'Lakeside Symphony'...which comes from 'Piedmont Gold'...is an example, as is the more recent green-margined 'Corn Belt'...which comes from 'Jimmy Crack Corn'."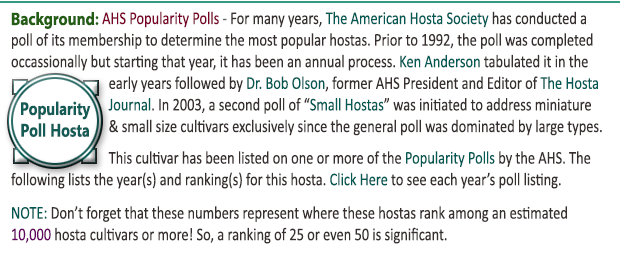 3
8.7