A sport of H. 'Gold Regal', this cultivar was registered by Vic Santa Lucia in 1989. It is a large size hosta which stands 22 inches high and 41 inches wide with lavender flowers in July.
The New Encyclopedia of Hostas by Diana Grenfell (2009) states: "Site in morning sun in cooler climates to intensify the leaf color. In deep shade, the colors remain muted. Slow to moderate growth rate."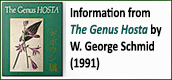 "Plant is a mutation of H. 'Gold Regal' with a wide, irregular, chartreuse margin. All other characteristics similar to H. 'Gold Regal'."