Dr. Alan Tower of Washington registered this cultivar of unidentified parentage in 2005. It forms a small size (11 inches high by 27 inches wide) mound with wavy, very shiny foliage of good substance. In August, it produces lavender colored flowers with purple stripes atop scapes from 15 to 24 inches in height. 'Nancy' does not produce seeds.
The New Encyclopedia of Hostas by Diana Grenfell (2009) states: "It is unusual for a medium to small yellow-leaved hosta to have such good substance."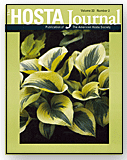 The following poem by Judy Burns of Georgia was included in The Hosta Journal (2010 Vol. 41 No. 1).