The barberries are thorny shrubs, with alternate leaves (both deciduous and evergreen types), bright yellow (but not showy) flowers and red, yellow, blue or black fruits. The leaves of the evergreen types may resemble that of Ilex (Holly).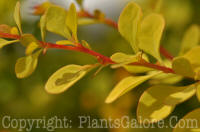 Generally, barberries are tolerant of a wide variety of soil and site conditions. They can take both sun and shade and have traditionally been used widely as a foundation planting.
Some (especially the common barberry, Berberis vulgaris) are not legal to plant because they act as an alternate host for the very destructive black stem rust of wheat. The species commonly used in the landscape are immune or highly resistant to this disease.