This vase shaped, giant size (36 inches high by 84 inches wide) cultivar of unidentified parentage was registered in 2000 by Steve Chamberlain of New York. The ovate shaped foliage is medium green, slightly rippled, slightly wavy and slightly corrugated. This cutivar bears near white flowers from late June into July but the viability of the seeds was unknown at the time of registration.
The registration materials state: "...extremely large, vase-shaped medium green."

Brobdingnagian means "giant" and Viridity means "green".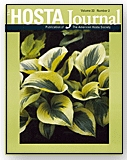 An article by Warren I. Pollock in The Hosta Journal (2009 Vol. 40 No. 1) quoted Steve Chamberlain on his introduction, H. 'Academy Brobdingnagian Viridity', "...it's the largest green hosta from my original cross of (H. 'Sieboldiana' × H. montana ) and (H. montana × H. 'Sieboldiana'). I've registered only three out of more than 1,000 seedlings I grew to 8-year maturity: H. 'David F. Mahoney' registered in 2002, 'Academy Blue Titan' in 1999 and now 'Academy Brobdingnagian Viridity'...is a silly way of saying "Big Green"...Brobdingnagian is from Jonathon Swift's Gulliver's Travels."