This cultivar was originated by Susan Lichacz and registered by Walters Gardens, Inc. of Michigan in 2009 and granted a U.S. patent in 2011. It is a tissue culture sport of H. 'First Frost' which grows to a height of about 20 inches with a width of 28 inches. The leaves have a glaucous bloom on both the top and bottom. They are flat, broadly ovate with a cordate base. The flowers are tubular and bloom from mid-July into August.
The patent application lists the following as similar cultivars: "Hosta 'Autumn Frost' has a wide margin that begins the season yellow and develops into a creamy-yellow to cream. Hosta 'El Nino' has a creamy to white-colored margin and is narrower than 'Autumn Frost'. 'Blue Ivory' and 'Great Escape' have wide margins but the color of the margin starts off white to greenish-white then develops into a cream to white and occasionally in high temperatures becomes misted with green. All of the above have similar flower color."

This plant is part of the SHADOWLAND group of hostas from Walters Gardens, Inc. It was also named the Proven Winners ®
Hosta of the Year for 2019.



An article by Warren I. Pollack in The Hosta Journal (2020 Vol. 51 No. 1) titled Doppelgänger Hostas: Fancy Name for Look-alike Hostas, included a long list of hostas which various hostaphiles, published articles or other sources have indicated "look" the same. Some of these are, in fact, the same plant with two or more different names. Others are hostas that vary in some minor trait which is not immediately discernable to the casual observer such as seasonal color variations, bloom traits, ploidy, etc. So, as Warren mentions, hostaphiles may differ as to the plants listed but then, their opinions are based on visual observations and interpretations.

H. 'Autumn Frost', H. 'Ben Vernooij' and H. 'Permafrost'.




United States Patent: PP23224 (2011)

Abstract: Hosta plant named 'Autumn Frost' with cordate leaves having blue-green centers and wide yellow margins that develop into a creamy yellow to cream margins. Flowers are medium lavender on medium-sized plant held attractively above the foliage.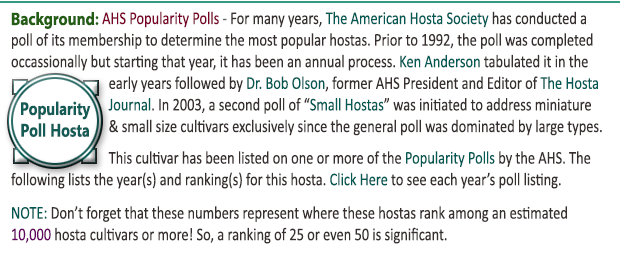 34
13.30

| | | | | |
| --- | --- | --- | --- | --- |
| 2013 #20 | 2019 #10 | 2020 #13 | 2021 #9 | |