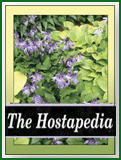 This slow growing giant size (32 inches high by 74 inches wide) cultivar was introduced in 1986 by Lucille Simpers of Indiana. The foliage has 18 veins and is medium green in color with no variegation. It has fertile, very pale lavender flowers in July. H. 'Big Boy' is a H. montana seedling.
According to The Hostapedia by Mark Zilis (2009), "It belongs to the group of H. montana macrophylla look-alikes - all great, centerpiece plants for the shade garden."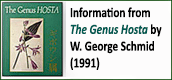 "Plant, as compared by Herz...shows this taxon similar to H. montana f. macrophylla (formerly H. montana 'Praeflorens' or 'Krossa B-3) but slightly larger. It may be a hybrid of one of these."