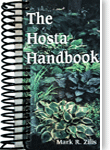 Registered by Dr. Ralph (Herb) Benedict of Michigan in 1987, this self-pollinated seedling of H. 'Dorset Blue' has deep blue foliage and typical Tardiana-type characteristics. It forms a medium size (16 inches high) mound of nearly heart shaped leaves that have thick substance. The flowers are a very pale lavender and appear in August.

The Hosta Handbook by Mark Zilis (2000), says that this plant falls into a category of "cultivars that exhibit many Tardiana traits but are not a part of Eric Smith's original group."
The New Encyclopedia of Hostas by Diana Grenfell (2009) states: "In essence a derivative of the Tardiana Group."
An article about favorite blue hostas in The Hosta Journal (2006 Vol. 37 No. 2) reported the responses of the following hosta hybridizers: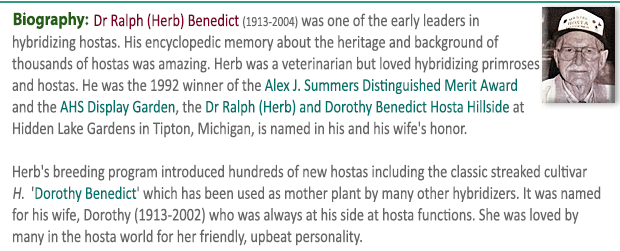 >