Registered in 1987 by Dr. Ralph (Herb) Benedict of Michigan as a hybrid of H. 'Dorset Blue' × H. 'Blue Moon'. It forms a small size (8 inches high) mound of deep blue foliage that is heavily corrugated, cupped and has thick substance. Very pale lavender flowers bloom in August.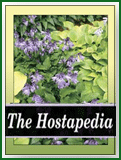 The Hostapedia by Mark Zilis (2009), says that this plant falls into a category of "cultivars that exhibit many Tardiana traits but are not a part of Eric Smith's original group."
According to The Hostapedia by Mark Zilis (2009), "It stands as the first thick-substanced, blue-leaved hosta in the small size category of any note. Unfortunately, it has an extremely slow growth rate, taking many years (ten or more) to reach my listed sizes."
The New Encyclopedia of Hostas by Diana Grenfell (2009) states: "Very slow to increase so worth exposing to morning sun as a young plant to boost its vigor even though it will temporarily lose its superb leaf color...Good in containers."

The Book of Little Hostas by Kathy and Michael Shadrack (2010) says: "The exceptional blue leaf color can be maintained only by growing this plant out of direct sunlight. The growth rate makes it ideal for the trough and tray."
Similar cultivars include H. 'Baby Blue Eyes', H. 'Blue Beard', H. 'Blue Melody', H. 'Blue Moon', H. 'Cool Blue', H. 'Hebe Blue' and H. 'Winsome Blue'.