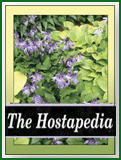 This is a non-registered sport of H. 'Great Expectation' from tissue culture. It was introduced by Jan van den Top of the Netherlands around 2004.
According to The Hostapedia by Mark Zilis (2009), this cultivar "...differs from its mother plant in having a much wider blue-green margin; other characteristics should be similar to 'Great Expectations', including mound & leaf sizes and flowering habits."
Similar cultivars include H. 'Dream Weaver' and H. 'Thunderbolt'.