A sport of H. 'Elegans', it was registered by its namesake, George Smith of England in 1983. The large size mound reaches about 2 feet in height and a spread of around 40 inches. Near white flowers with a pale lavender mid-tepal stripe blooms from late June into mid-July. Its other characteristics are those of H. 'Sieboldiana' type hostas.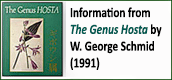 "Plant is one of several mediovariegated mutants of H. 'Sieboldiana' known to exist and by some authors considered the same as H. 'Borwick Beauty', but further study is needed. This taxon was formerly called H. 'Heslington'."

This cultivar was actually named for and by George Smith who is an internationally known flower arranger and floral artist from Yorkshire, England.



An article about H. 'Borwick Beauty' by Warren I. Pollock in The Hosta Journal (1992 Vol. 23 No. 1) states that "I concluded that 'Color Glory' and 'Borwick Beauty' are identical. In fact, my opinion is they are the same clone obtained from the same source. H. 'George Smith' is very similar if not the same, with respect to the characteristics I was able to observe in George Smith's own garden near York."