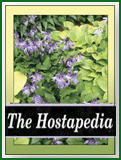 Van Wade of Wade and Gatton Nursery (Closed 2019) of Ohio registered this sport of 'Great Expectations' in 1999. It forms a large size hosta about 19 inches high with a spread of about 50 inches.
According to The Hostapedia by Mark Zilis (2009), "So far I cannot discern any significant difference from 'Great Expectations', and it does not match 'Dream Weaver' or 'Dream Queen' in margin width."
Similar cultivars include 'J.D.'s Luck'.