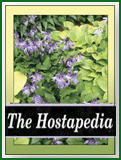 Another of the sports of H. 'Golden Nugget', this is a non-registered cultivar from Alex Summers of Delaware. The slightly cupped green foliage has a gold medial (center) variegation and his heavily corrugated with thick substance. The mound grows to about 18 inches in height with a spread of around 40 inches. Near white flowers bloom from late June into July.
According to The Hostapedia by Mark Zilis (2009), "...cannot be accused of being unique. In fact, it might be impossible to distinguish between 'Green Rim Nugget', 'Carriage Wheels', 'Larry Englerth', and 'Spinning Wheel'..."




An article by Alex Summers in The Hosta Journal (1997 Vol. 28 No. 2) states that, "...'Green Eclipse' and 'Green Rim Nugget' are the same plant. The name was changed to 'Green Eclipse' when the "Code" frowned on names with more than two words a number of years ago."