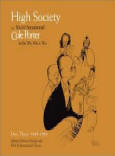 This sport of H. 'June' was registered by Hans Hansen and Shady Oaks Nursery of Minnesota in 2004 and received a U.S. patent in 2006. A dense, small size (12 inches high by 24 inches wide) plant, it bears pale bluish lavender flowers in late July.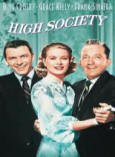 The New Encyclopedia of Hostas by Diana Grenfell (2009) states: "Slow growth rate...Simple, elegant containers accentuate the dramatic variegation. Also makes an eye-catching specimen. Divide regularly to retain the attractive balance of leaf color...Differs from its parent in having a more upright habit and thicker leaves."
Similar cultivars include H. 'Catherine', H. 'Remember Me' and H. 'Touch of Class'.



United States Patent: PP17313 (2006)

Abstract: A new cultivar of Hosta named 'High Society', a sport of Hosta 'June', that is characterized by its unique variegated foliage with wide blue-green margins comprising about two thirds of the leaf area, centers that emerge yellow green turning to white, with intermediate areas of bright green. 'High Society' is a smaller Hosta, in comparison to 'June', with a mounded plant habit and pinkish white flowers held above the foliage that are present from late summer to early fall.