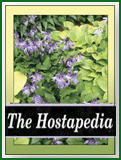 This sport of H. 'Carder Blue' was originated by Marc Laviana of Sunny Border Nurseries in Connecticut and registered by him and Alex Malloy of New York in 2001. Marc was granted a U.S. patent for this hosta in 2005. It grows into a medium size hosta with a height of about 14 inches and a spread around 35 inches. This plant produces pale lavender flowers in late July.
According to The Hostapedia by Mark Zilis (2009), "I doubt that 'Grand Marquee' sported from its listed mother plant, 'Carder Blue'. 'Grand Marquee' bears a close resemblance to 'Olympic Sunrise' and 'Touch of Class', two sports related to 'Halcyon', and does not appear anything like 'Carder Blue'."
United States Patent: PP15961 (2005)

Abstract: A new cultivar of hybrid Hosta, 'Grand Marquee', characterized by its unique variegated foliage with wide blue-green margins and creamy white centers, its upright, mounding and relatively compact plant habit, and pale lavender flowers positioned above the foliage on strong and erect flower scapes.