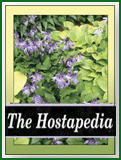 Registered by Emile and Jane Deckert of Maryland in 2004, this cultivar is a tissue culture sport of H. 'Blue Mouse Ears'. It is a slow growing, small size plant with a height of around 8 inches and a spread of 18 inches which bears dense clusters of pale purple flowers in July.
According to The Hostapedia by Mark Zilis (2009), "...may be the best small-size streaked cultivar. It would look great in a trough in combination with 'Blue

Mouse Ears' or 'Green Mouse Ears."
The New Encyclopedia of Hostas by Diana Grenfell (2009) states: "One of the most prized sports of H. 'Blue Mouse Ears' since, being streaked, it produces interesting sports thus increasing the range of the amazingly good Mouse Ears group...Leaves sometimes have blue-green margins enclosing the streaked portion of the leaf, which is more cream than green. Sometimes the background of the whole leaf is blue-green with random, paler streaking."