In 1983, Paul Aden of New York registered this seedling selection. It is a large size (24 inches high) plant with a white marginal variegation and ovate shaped, deeply veined, slightly wavy leaves. Lavender, funnel shaped flowers in July.

According to The Hostapedia by Mark Zilis (2009), "...It impressed me with its large size mound size, attractive marginal variegation, and a semi-upright mound habit. At the same time, it appeared similar to several other 'Fortunei ; type cultivars including 'Antioch', 'Fortunei Albomarginata', and Chet Tompkins' 'Jade Lancer'."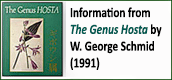 "Plant looks very much like H. 'Spinners' and H. 'Goldbrook' (UK) and H. 'Moerheim' (Netherlands). It also resembles H. 'Antioch', but the latter is larger with wider leaves. The margin in all these plants starts out yellow and turns white."