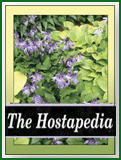 Peter and Jean Ruh of Ohio registered this large size sport of H. 'Sieboldiana' in 2001 on behalf of the originator, Thomas Donahue of Massachusetts. It grows into a large size hosta about 26 inches high and spreads 5 feet wide with heavily corrugated foliage with thick substance. Dense clusters of near white flowers bloom starting in mid-June.
According to The Hostapedia by Mark Zilis (2009), "...a variation of H. 'Frances Williams' with a gold edge...To me, this plant has always seemed to fall within the limits of variability in 'Frances Williams' itself."



An article titled Too Many Lookalikes by Bob Keller in The Hosta Journal (2010 Vol. 41 No. 2) states that, "There are many registered 'Frances Williams' lookalikes including H. 'Aurora Borealis', H. 'Squash Edge', 'Holly's Green and Gold', 'Golden Circles' and 'Olive Bailey Langdon', as well as some unregistered ones."