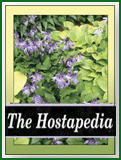 The Russ O'Harra Hosta Society registered this slow growing, large size sport of H. 'Frances Williams' in 1986. It was previously named H. 'Cover Girl' and was originated by Russ O'Harra of Iowa. The giant size mound is 31 inches high by 58 inches wide with foliage that is heavily corrugated with thick substance. Near white flowers bloom from mid-June into July.
According to The Hostapedia by Mark Zilis (2009), "...very similar to 'Frances Williams' with one major exception: it does not develop spring desiccation burn in the gold margin to any significant extent."

An article titled Too Many Lookalikes by Bob Keller in The Hosta Journal (2010 Vol. 41 No. 2) states that, "There are many registered 'Frances Williams' lookalikes including H. 'Aurora Borealis', H. 'Squash Edge', 'Holly's Green and Gold', 'Golden Circles' and 'Olive Bailey Langdon', as well as some unregistered ones."