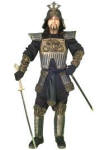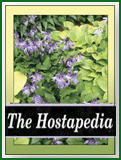 A sport of H. 'Frances Williams', this cultivar of unidentified origin ation was registered by Mark Zilis of Illinois in 2010. It is a large size (26 inches high by 48 inches wide) hosta with medium blue-green foliage with golden yellow marginal variegation. The center turns medium green by mid-summer. The leaves are flat, moderately corrugated, broadly ovate, slightly wavy and have a glaucous bloom on top. Its near white flowers bloom in mid-June into July. Like many hostas of this type, this cultivar may suffer spring desiccation burn.
According to The Hostapedia by Mark Zilis (2009), this cultivar was "...introduced by Paul Aden before 1981; have not been able to distinguish it from 'Frances Williams'."

In the past, this cultivar was credited to Paul Aden of New York but its status has been changed to "unidentified origin " recently.