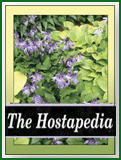 This sport of H. 'Striptease' was registered by Bob Whitmore of Indiana in 2002. Its foliage is slightly corrugated and slightly wavy. The pale lavender flowers start to bloom in mid-July.
According to The Hostapedia by Mark Zilis (2009), "...differs from 'Striptease' by its narrow, creamy white center..."
Similar cultivars include H. 'Gamma Ray', H. 'Lapdance', H. 'Stripped Naked', H. 'Tight Squeeze' and H. 'White Line Fever'.



From The Hosta Journal, (2008 Vol. 39 No 1), "...white-centered sports, 'White Bikini' and 'Pole Cat', have been named but are not as widely available as 'Risky Business'. Both are very similar, if not identical, to it."