Of course, not all members of the insect family are pests of plants. Some of them are predators and parasites of other insect species. These can be the gardener's friends and go by the name of beneficial insects.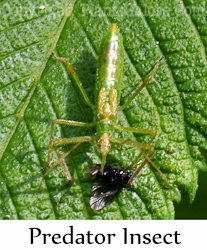 In nature, everything eventually comes into a balance unless some outside factor interferes. For every insect that eats on plants, there are other living organisms that feed on them.
Beneficial insects have many positives for the home landscape gardener. First of all, they can do that job that many people rely on pesticides to do. This can helps save money and prevent contamination of the environment with sprays. Once established, they do not have to be reapplied like pesticides.
Of course, there are also some difficulties associated with relying on beneficial insects to control your pests. As with any "organic" approach, they will not totally eliminate the pests. They will eventually form a relationship with their prey so that when pest numbers are high, beneficial insect numbers will rise to meet the challenge. However, they cannot eat them all or the beneficial insect would be out of business too. So, there are always at least some of the pests around resulting in some damage to the landscape plants.
Also, if you are going to depend on beneficials, you have to go all the way. Spraying pesticides for other problems on your property (or maybe even on adjacent properties) may kill off the beneficial insects along with the targeted pests.