This seedling of Hosta sieboldii is a non-registered plant from Frances Williams of Massachusetts. It is a medium size hosta which stands 11 inches high and about 25 inches wide. The leaves have a narrow elliptic form and thin substance. Bright purple flowers bloom in late July followed by viable seeds.

According to The Hostapedia by Mark Zilis (2009), "...ranks as one of the most significant hostas ever developed. Early hosta hybridizers used it and its seedlings extensively in their breeding efforts to produce thousands of variegated seedlings."
The New Encyclopedia of Hostas by Diana Grenfell (2009) states: "It is prone to throw streaked sports. This was the first streaked hosta to be introduced and is now among the best-known breeding plants. Sets seed readily...Extremely unstable variegation produces leaves which can be streaked and mottled. The dark purple anthers contrast well with the palest lavender flowers."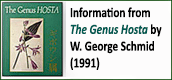 "Plant is similar in habit to hybrids of H. sieboldii, but is an unstable, variegated form, streaked yellow, with some leaves margined yellow. No two leaves are alike and a number of different plants bear this name."

An article by Bob Solberg in The Hosta Journal (1994 Vol. 25 No. 2) states that "Frances Williams' larger contribution to hosta hybridizing, however, was a plant that probably never got a single vote on the Popularity Poll. It is not even an attractive plant, and if it showed up now in any hybridizer's seedling patch, it probably would not last a season. It has few flowers, floppy scapes, and no substance...The hosta is 'Beatrice', an ugly plant with a few streaks in the leaves. It was found under a clump of H. sieboldii...and is the mother of almost every variegated hosta created in the past twenty-five years. It gives a very high percentage of variegated seedlings, something unheard of before its existence.

William and Eleanor Lachman crossed the better blues of Eric Smith with their own line of variegated 'Beatrice' and 'Flamboyant' hybrids to yield a large group of blue hostas with cream to white variegation - unlike any previously introduced: 'Cherub'...and 'Crusader'...both registered in 1989 are two examples of this breakthrough. Some may also consider the Lachman's earlier introductions of 'Carnival' and 'El Capitan' as breakthroughs for their substance and bright gold edges, although 'Galaxy', their streaked sibling, is of more value to hybridizers. All have 'Beatrice' and some 'Tokudama' in their pedigrees."
An article by Bill Meyer in The Hosta Journal (2003 Vol. 34 No. 1) states that, "Because Frances Williams' discovery of 'Beatrice', the first known streaked plant, H. sieboldii became the basis for early hosta breeding by Paul Aden, Kevin Vaughn and the Lachmans...The primary positive traits 'Beatrice' has contributed are variegation, heavy seed set (including very good seed set into later generations), easy combination with other species and hybrids, strong and rapid growth, red coloring in the petioles and rapid formation of divisions. Negative traits include poor substance, ordinary and common appearance, and strong resistance to blue color and lutescent yellow color."