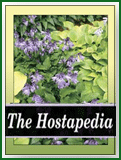 This is a medium size (17 inches high by 41 inches wide), green hosta with white margins that are ovate-shaped and moderately corrugated. It was registered by Dr. Ralph (Herb) Benedict of Michigan in 1987 and is considered a self-pollinated seedling of H. 'Neat Splash'. Long, funnel shaped purple flowers in August followed by viable seeds.
According to The Hostapedia by Mark Zilis (2009), this cultivar "...is one of Herb Benedict's most commonly grown cultivars."
The New Encyclopedia of Hostas by Diana Grenfell (2009) states: "Moderate growth rate...Conspicuously margined, paddlelike leaves."

The following poem by Judy Burns of Georgia was included in The Hosta Journal (2010 Vol. 41 No. 1).