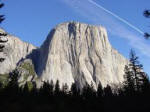 Wm and Eleanor Lachman of Massachusetts registered this seedling of H. 'Beatrice' in 1987. This very large size plant grows to 26 inches in height and spreads to about 50 inches wide. The leaves are moderately corrugated, slightly wavy and have good substance. In late July, it bears medium lavender flowers followed by viable seeds.
The New Encyclopedia of Hostas by Diana Grenfell (2009) states: "Useful as a border specimen or for background planting. Lovely with blue-leaved hostas...Transitional celadon streaking and misting."
Similar cultivars include H. 'Carnival', H. 'Celebrity' and H. 'Standing Ovation'.