This vigorous growing hosta was originated by Dr. Kevin Vaughn of Mississippi but registered by Paul Aden of New York in 1982. In 2012, it was re-registered with Vaughn as originator and the AHS as registrant on his behalf. It is a large size (22 inches high by 48 inches wide) plant with pale green to chartreuse colored leaves that have a creamy yellow marginal variegation. As its name implies, it has large, very pale lavender, fragrant flowers from August into September and usually does not set viable seeds. It is a hybrid of H. 'Fascination' × H. 'Fragrant Summer'.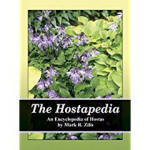 According to The Hostapedia by Mark Zilis (2009), this cultivar "...ranks high on the popularity poll for its attractively variegated foliage and fragrant flowers. It is also known for being a good grower, making it useful as a colorful ground cover in the landscape."
The New Encyclopedia of Hostas by Diana Grenfell (2009) states: "Increases rapidly. This cultivar was registered as having streaked leaves but all the plants offered for sale have marginal variegation."
In an article in The Hosta Journal (2016 Vol. 47 No 2) , the author described this plant's flowers as having a "Strong" fragrance compared to other hostas.
This cultivar was the 1998 "Hosta of the Year" by the American Hosta Growers Association.