Jointly registered in 1995 by Mark Zilis of Illinois and Wm Zumbar of Ohio, this H. pulchella type cultivar grows into a small size hosta about 6 inches in height and 15 inches in width. The leaves have a narrow yellow marginal variegation and are ovate shaped, wavy and shiny with smooth texture. Reddish purple flowers bloom in August followed by viable seeds.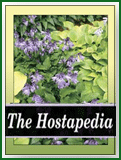 According to The Hostapedia by Mark Zilis (2009), "I received this Japanese plant as 'Hogon Hime'. That name was incorrect since its translation, "gold dwarf", is not at all descriptive of the plant. With my approval, Bill Zumbar named it 'Gaijin'."
The Book of Little Hostas by Kathy and Michael Shadrack (2010) says: "Best in dappled shade but a good edging plant for a border or pathway."
The New Encyclopedia of Hostas by Diana Grenfell (2009) states in its Miniature Hostas chapter: "...suitable for a dedicated border for the smallest hostas although it will soon outstrip most others and will need regular division to keep in check. Robust and a moderate increaser. Also holds its own at the front of a raised bed. Currently having a resurgence in popularity...The flowers are widely spaced down the scape. There can be a repeat bloom in late autumn."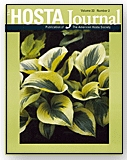 In answer to a question about growing smaller hostas that appeared in The Hosta Journal (2012 Vol. 43 No. 2), Sandie Markland of North Carolina commented, "There two smaller hostas that really stand out among the many I have grown over the years: H. 'Gay Blade' and the truly diminutive, 'Gaijin'...I have grown both of these beauties for the past 15 years and still have the original plants I purchased as a budding collector in 1997. I think that really says something about the plant!"

An article by Warren I. Pollock in The Hosta Journal (2015 Vol. 46 No.1) states that, "In 2013, Randy Goodwin...registered H. 'Moolah'. A seedling of H. 'Gaijin' × unknown, it is little with leaves about 3˝ inches long by 2˝ inches wide and mound size about 5 inches high by 12 inches across. The dark green foliage is leathery, cupped and corrugated, with greenish yellow margin that brightens to cream as the season progresses." The article goes on to say that this plant has been mistakenly offered in the trade under the name H. 'Mulah'.