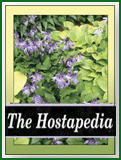 This large size (20 inches high) hybrid of a H. 'Resonance' seedling and H. 'Halcyon' was registered by Wm and Eleanor Lachman of Massachusetts in 1988. It has a good growth rate and the medium lavender flowers appear in August.
According to The Hostapedia by Mark Zilis (2009), "...'Gay Blade' may be thought of as "the hosta for all seasons". I've seen 'Gay Blade' growing in a variety of gardens across the U.S. From May to October and it always looks great."
The New Encyclopedia of Hostas by Diana Grenfell (2009) states: "Vigorous, easy to grow...Leaves last well into autumn."