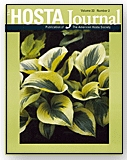 This sibling of H. 'Cynthia' is a non-registered cultivar from Chet Tompkins of Oregon. It forms a large size mound of rippled green and gold foliage that has a splotchy pattern. It bears pale purple flowers bloom in July.

'Cynthia' was registered as a cross of two unnamed seedlings but thought to have H. montana in the background.

An article about H. 'Aureafolia' by Warren I. Pollock in The Hosta Journal (1985 Vol. 16) states that, "Carl Starker of Oregon gave this name to Chet Tompkins' mother's "1928 #11 W.E.)...Starker like to use these leaves in his floral arrangements. Tompkins has named his hosta 'Laella'..."