This large size (26 inches high by 60 inches wide), marginally variegated hosta produces pale lavender flowers in mid-August. The leaves are moderately corrugated and somewhat wavy. It is a seedling of H. 'Breeder's Choice' × H. 'Frances Williams' that was registered by Dr. Kevin Vaughn of Massachusetts in 1988.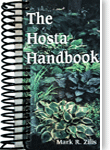 According to The Hosta Handbook by Mark Zilis (2000), "The very thick creamy margins sharply contrast the green center and give it a distinctive appearance. Though the substance is not quite as thick as many Sieboldianas, that is secondary to the greatness of this plant."
The New Encyclopedia of Hostas by Diana Grenfell (2009) states: "Moderate to good growth rate. Useful as a specimen or in a large container. Prized by flower arrangers for its contrasting leaf color and pebbled surface texture."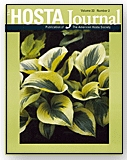 A catalog advertisement from Fairway Enterprises (Eldren and Nancy Minks) in Minnesota in The Hosta Journal (1994 Vol. 25 No. 1) offered the following hostas (among others): 'Banana Flip' - $100.00, 'Candle Glow' - $100.00, 'Coventry' - $100.00, 'Formal Attire' - $100.00, 'Holiday White' - $100.00, 'Mesa Fringe' - $100.00, 'Nancy Minks' - $150.00, 'Prince Albert' - $100.00, and 'Royal Highness' - $100.00.

|