This large size (25 inches high by 55 inches wide) mounded hosta was registered by Paul Hofer of Antioch Farms in Ohio and Peter Ruh of Ohio in 1987 as a sport of H. 'Perry's True Blue'."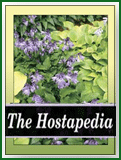 The leaves are ovate shaped, slightly wavy, moderately corrugated with good substance. It bears pale lavender flowers from mid-July into August followed by viable seeds.
This cultivar has appeared on several of the Popularity Polls by members of The American Hosta Society (see below). It was the 1999 "Hosta of the Year" by the American Hosta Growers Association.
According to The Hostapedia by Mark Zilis (2009), "'Paul's Glory' improves on such legendary gold centered hostas as 'Gold Standard' and 'Janet' by having better substance and more intense foliage colors."
Mark Zilis (2009), adds "Any list of "classic" hosta cultivars must include Paul's Glory'. In the garden it makes a tremendous

specimen plant and offers a significant improvement on 'Gold Standard' by its greater slug resistance. Its good growth rate, attractive variegation, and large size make it useful for many purposes in the landscape."
The New Encyclopedia of Hostas by Diana Grenfell (2009) states: "In summer the center turns gold and the leaves turn dark green; the center will bleach to ivory white if exposed to hot sun. Medium to fast growth rate but needs dividing every three to four years to retain the attractive variegation...Particularly vivid and dramatic leaf coloring."



"I've been praising this plant for a couple of years and continue to sing its praises. It's a chameleon, constantly changing its colors, so that the green center subtly turns into yellow - actually various intensities of yellow - and then fades to a whitish green, while the green margin dips into the center at various places. A fast increaser, it is a striking plant at all stages, and I guarantee that it will become a focal point in your garden."

"I would (reluctantly) have to agree with Art Santmier, 'If I could only have one hosta, God forbid, it would be...' (I must emphasize 'God Forbid'). This is a real beauty, combining the best of two worlds. It has the eye-catching coloring of 'Gold Standard': beautiful, gold-centered leaves with a strong, blue-green border, without being so finicky about the amount of sun it receives to achieve its good coloring. It has the texture of a sieboldiana-type: strong and durable, but not as slow-growing as most of the sieboldianas are. Now, if I could just keep the moles away from it..."

"A medium-sized plant with a lot of impact. The leaves are cream centered with a narrow, green margin. The plant grows very well. Mine has increased from one division to eight in two years. This one doesn't melt out or burn, and there is no insect damage - outstanding for a light-centered hosta."


Warren I. Pollock in The Hosta Journal (1994 Vol. 25 No. 2) writes, "In tissue culture, an all-blue sport of the very handsome, widely acclaimed, yellow-centered, blue-margined 'Paul's Glory' has been found and introduced. It's being called 'Wheaton Blue'...But isn't 'Paul's Glory' a sport of 'Perry's True Blue', and, therefore, shouldn't the blue sport of 'Paul's Glory' be called 'Perry's True Blue'? Well...to be exact, 'Paul's Glory' was found in a clump of 'Perry's True Blue', so it just might be a seedling and not a sport. Mark Zilis apparently thinks it's best to give the blue sport of 'Paul's Glory' a new cultivar name."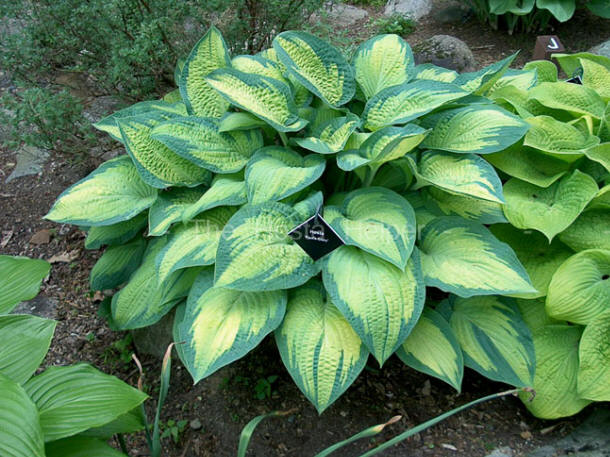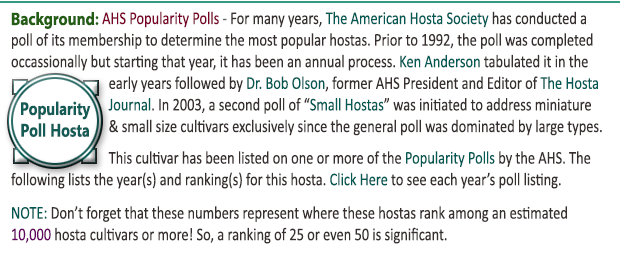 20
8.9

1994 #16
1995 #9
1996 #10
1997 #8
1998 #4
1999 #3
2000 #6
2001 #5
2002 #6
2003 #4
2004 #4
2005 #6
2006 #7
2007 #9
2008 #7
2009 #9
2010 #14
2011 #15
2016 #18
2019 #19