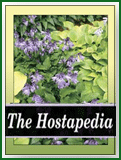 This self-pollinated seedling of H. 'Dorothy Benedict' is a cultivar originated by Dr. Ralph (Herb) Benedict of Michigan and registered on his behalf by Rod Kuenster of Iowa in 2010. It is a large size, upright growing hosta about 24 inches high with a spread of around 24 inches. The foliage is greenish yellow with golden yellow and creamy white streaked variegation. Its leaves are slightly rippled, moderately corrugated, nearly round and has a glaucous bloom on top. Near white, bell-shaped flowers bloom from June into July. It sets viable seeds with some streaking in the pods.
According to The Hostapedia by Mark Zilis (2009), "...should be considered one of the best seedlings out of 'Dorothy Benedict'. Its heavily streaked and mottled foliage makes it a sensational specimen plant and increases its value as a breeding plant."

Named to honor Herb Benedict's shy mother.

An article about H. 'Dorothy Benedict' by Herb Benedict in The Hosta Journal (1991 Vol. 22 No. 1) states that, "During 1990, the six best, 7 year old seedlings were named and three were registered.

| | |
| --- | --- |
| | |
| #1. 'Gil Jones' | A large upright H. 'Sieboldiana'-type, with blue-green leaves and a wide cream edge. |
| #2. 'Jim Wilkins' | A low spreading reverse with a cream center and with a blue-green border on its leaves. |
| #3 'Hideko Gowen' | A tall, upright reverse with a maple leaf cream center, a wide green edge and a thick cupped round leaf. |
| #4 'Tom Boy' | A small, slow-growing miniature H. 'Sieboldiana' with a chartreuse edged, cupped, round green leaf. |
| #5 'Ruby Benedict' | A low, spreading, very gold leaf with a green edge, and a very puckered, round leaf. |
| #6 'Bashful Polly' | A wavy edged, splashed leaf. |

Another 'Dorothy Benedict' seedling, grown and registered by Jim Wilkins, is 'Herb Benedict', a splashed, round leaf with blue overtones and winner of the Savory Shield Award in Jackson (MI), 1988, for the best new seedling growing in a National Convention of The American Hosta Society tour garden."
Warren I. Pollock wrote in The Hosta Journal (2012 Vol. 43 No. 1) that, "Rod Kuenster...has been collecting data in Audra Wilson's garden in...Iowa, as part of his effort to registered many of the hostas introduced by Herb and Dorothy Benedict...I asked him for his favorites. His choices:"
| | |
| --- | --- |
| * H. 'Bashful Polly' | - a very beautiful streaked hosta that is fertile. |
| * H. 'Tsuma Tajima' | - a streaked and fertile smaller plant with shiny leaves. |
| * H. 'Country Gentleman' | - a mid-size hosta that makes a nice clump, with leaves having medium-green center and creamy yellow margin. Herb named it for Fred Wilson, Audra's husband, as that is what he thought Fred was: a country gentleman. |
| * H. 'Blue You Bet' | - a small blue with thick substance; good pollen donor. |
| * H. 'Reddy Eddy' | - which has dark red petioles, and shiny, wavy leaves with a pointy tip. |
| * H. 'Mountain Pride' | - perhaps Herb's largest hosta. Medium-green leaves. Audra's clump measured 69 inches across and 33 inches high. |
| * H. 'Mellow Yellow' | - a must for anyone's hybridizing program. Golden yellow leaves have heavy substance and are puckered. |
| * H. 'Sarah Fackey' | - with medium green leaves having a yellow margin. Named for one of Herb's school teachers. |